Market-leading customs facilities
iPort Rail is one of the UK's first inland port facilities to provide customs clearance, providing our customers with an alternative to seaport border controls.
As of May 2021, we operate a Customs Rail Terminal, approved by HM Government Border Force, with a Customs Examination area and a Temporary Storage facility as well as holding AEO (Authorised Economic Operator) status that provides an internationally recognised mark of quality and security. We are External Temporary Storage Facility (ETSF) approved and inventory linked.
For our customers, this means:
Local customs clearance, avoiding the congestion of larger ports

Viable alternative trading routes between the UK and EU via the Channel Tunnel

Warehousing and storage for goods until required, with duties payable on release

Shorter transit times to end destination post-customs helping maintain security for goods

Support managing trade documentation
The terminal in detail
Our terminal is open to all businesses, whether or not they are located at iPort. While dealing mainly with intermodal container traffic, it has been designed so that other freight sectors such as automotive, steel, energy and retail, can also take advantage of the facilities and services too.
iPort Rail is also sustainably designed and equipped for future rapid growth, which would double the length of the handling sidings to 800m, provide a second 800m reception siding, and double both our train handling capacity and the size of the storage apron to around 3,000 TEU capacity.
Click to view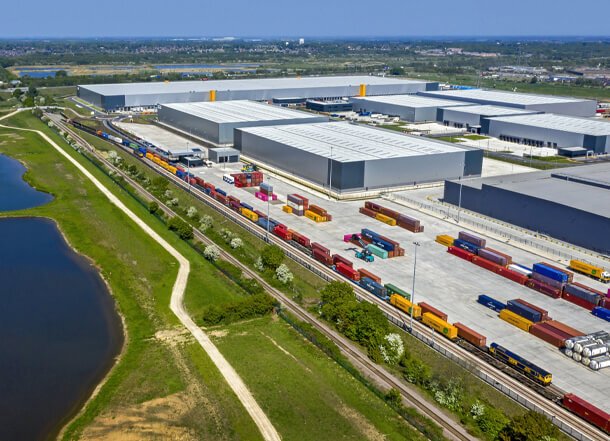 Rail services
Our state-of-the-art terminal has capacity for the UK's longest trains running to and from deep sea ports across the country and connecting with Channel Tunnel routes.
Click for more
Freight forwarding services
We can support cargo journeys from port of entry right up to the warehouse door and help regional/national businesses to export goods to the EU and the Rest-of-the-World (RoW).
Click for more